The Office of the Cross Chair in the Scholarship of Teaching and Learning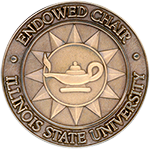 K. Patricia Cross endowed the Cross Chair in the Scholarship of Teaching and Learning at Illinois State University in honor of her father, Clarence L. Cross, a beloved teacher of physics at ISU for over 30 years. The Office of the Cross Chair supports and enables the demonstration of Illinois State University's commitment to the promotion of scholarship and research on the teaching and learning of Illinois State University students.
The SoTL Advocate Blog
The SoTL Advocate publishes posts of opinions about the field of SoTL, examples of SoTL projects, shared SoTL resources and tips, and information about SoTL workshops, conference, and other opportunities. Some posts are targeted to members of the ISU community but most are of interest to the broader SoTL community.
SoTL News
Erin Mikulec is the recipient of the 2018 John Chizmar and Anthony Ostrosky Scholarship of Teaching and Learning Award.  
Discover how a scholarly approach to one's own teaching ultimately helps students become better learners. 
Illinois State University alumnus Rajagopal Sankaranarayanan has been accepted into a doctoral program at Indiana University. From hundreds of applicants, the Department of Instructional Systems Technology at Indiana University awarded a Proffitt Fellowship to Sankaranarayanan for his first year of study and a Faculty Doctoral Fellowship for the second through fourth years of study at Indiana University. 
SoTL Grants
The Office of the Cross Chair is currently accepting applications for the following grants:
Submission guidelines, including eligibility, application requirements, and review criteria for each funding opportunity can be found at ilstu.infoready4.com.
Gauisus
Read Gauisus
Gauisus is the internal, peer-reviewed, multi-media, on-line scholarship of teaching and learning publication at Illinois State University.