The Office of the Cross Chair in the Scholarship of Teaching and Learning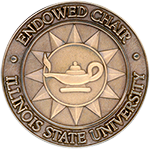 K. Patricia Cross endowed the Cross Chair in the Scholarship of Teaching and Learning at Illinois State University in honor of her father, Clarence L. Cross, a beloved teacher of physics at ISU for over 30 years. The Office of the Cross Chair supports and enables the demonstration of Illinois State University's commitment to the promotion of scholarship and research on the teaching and learning of Illinois State University students.
The SoTL Advocate Blog
The SoTL Advocate publishes posts of opinions about the field of SoTL, examples of SoTL projects, shared SoTL resources and tips, and information about SoTL workshops, conference, and other opportunities. Some posts are targeted to members of the ISU community but most are of interest to the broader SoTL community.
SoTL News
Dr. Jennifer Friberg has been named interim director for the Center for Teaching, Learning, and Technology, effective June 1.   
Here are the latest books and music recordings from our Redbird Scholars. 
Support by phone and email will continue as CTLT's old facility is closed for packing and moving to Williams Hall. 
SoTL Grants
The Office of the Cross Chair is currently accepting applications for the following grants:
Submission guidelines, including eligibility, application requirements, and review criteria for each funding opportunity can be found at ilstu.infoready4.com.
Gauisus
Read Gauisus
Gauisus is the internal, peer-reviewed, multi-media, on-line scholarship of teaching and learning publication at Illinois State University.