Civic Engagement at ISU: Case Studies and Student Reflection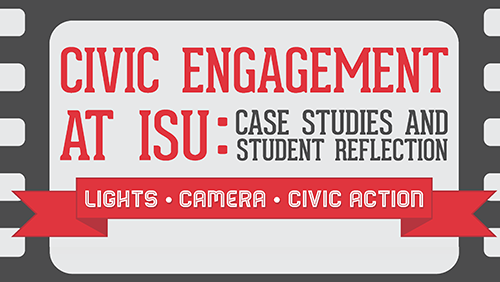 This research video documentary was a collaborative project of Illinois State University (ISU) students, faculty and staff. The project was the final action in ISU's thirteen year involvement in the Carnegie Academy for the Scholarship of Teaching and Learning (CASTL) program. The video had four purposes:
Reflect on and study – via a scholarship of teaching and learning (SoTL) project – the perceived learning outcomes from a sample of civic engagement experiences by ISU students.
Make public in a nontraditional way the results of this reflection and study (i.e., via a video documentary shared on line and in live screenings).
Use the video documentary as both the SoTL method (how we gathered data on learning) and the SoTL product (how we shared our findings).
Involve students and their expertise at all levels and in many ways in this project.
In the fall of 2011, a video production team documented four ISU civic engagement (CE) projects through 1. video documentation of CE sites and activities, and 2. recorded focus groups with some of the participating students to discuss and describe the nature of their experience. The projects represented a range of CE experiences connected to classes as well as in co-curricular and extra-curricular settings. The goal was to investigate the student CE experience and perceived learning outcomes. Led by School of Communication Assistant Professor and Emmy-award winning producer, Maria A. Moore, the production team included graduate and undergraduate students from the School of Communication and was overseen by the Cross Chair in the Scholarship of Teaching and Learning and Professor of Sociology, Kathleen McKinney. The video project was supported by the ISU American Democracy Project (ADP), the Office of the Cross Chair in SoTL, and the Office of the Provost. In the fall of 2012, the video was presented at the annual meetings of both the International Society for the Scholarship of Teaching and Learning and the National Communication Association. A local premier was also held with about 100 people in attendance. A promotions and marketing team, entirely made up of students, planned this event and created all the related materials.
This video is one part of our effort to assess the value and outcomes of civic engagement experiences for our ISU students.